Biondo Cement – One of the Foremost Concrete Contractors in Macomb County, Michigan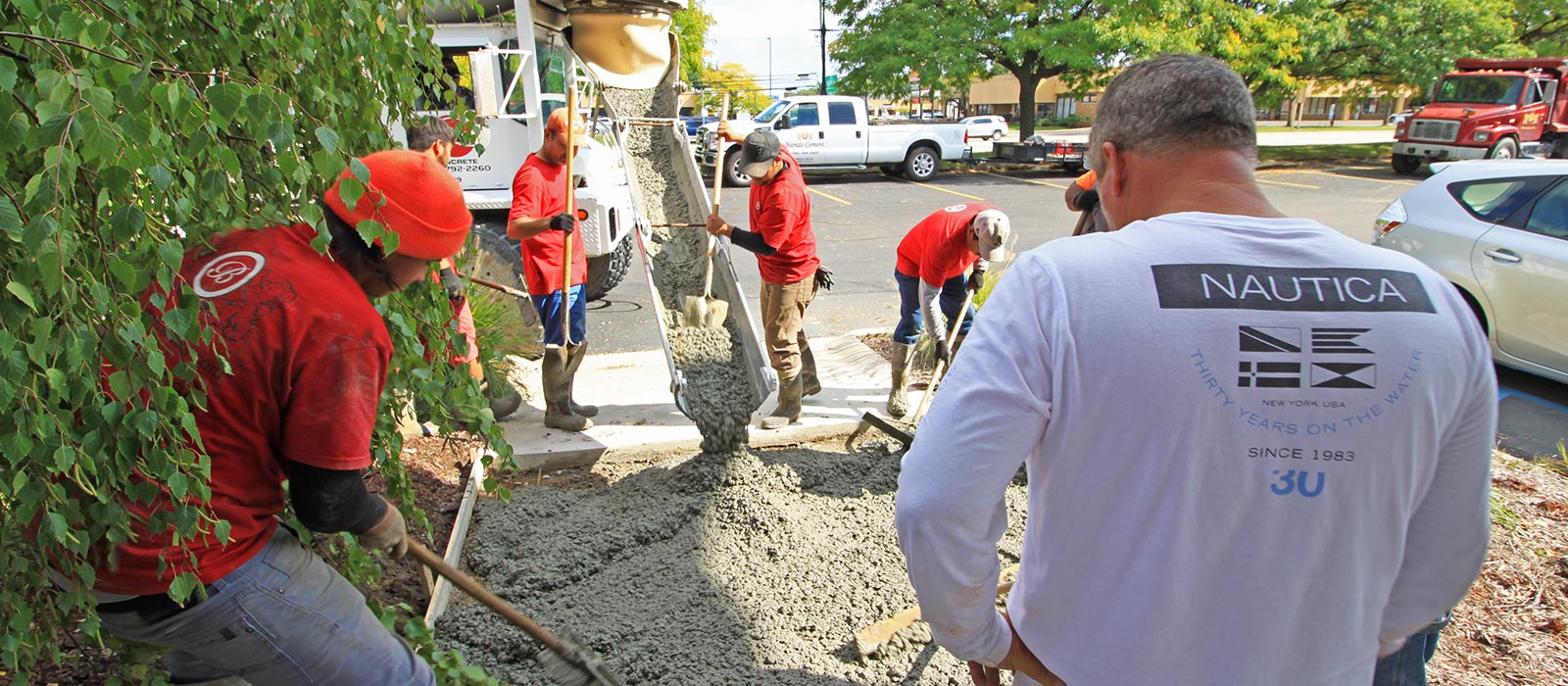 Giovanni Biondo and his skilled concrete craftsman installing cement sidewalk at a commercial worksite in Clinton Township, Michigan.
If you are looking for a beautiful stamped concrete or exposed aggregate patio and driveway, look no further. Giovanni Biondo (President at Biondo Cement) has proven year after year that he can provide concrete excellence for homeowners in Macomb County, Michigan. 
With over 25 years in business and an unmatched eye for detail and design, Giovanni has improved thousands of homes outdoor living in Southeast Michigan.
Biondo Cement creates custom luxury patios, driveways, walkways, and other outdoor features that will make your jaw drop. Their outstanding reputation is a result of hard work and constant development of new and unique products to deliver to customers. Giovanni dedicates the majority of his offseason to designing new looks, improving already amazing styles and techniques, and enhancing their customer experience. 
Stamped concrete and exposed aggregate is an art requiring a highly skilled artist. Not all contractors can provide high quality and uniquely designed decorative concrete creations like Biondo Cement. They have continuously been developing and improving their craft and quality down to the most exquisite details. They will continue to do so for years to come.
Biondo Cement has also created a unique experience for customers by building a gorgeous concrete design showroom located in Shelby Township. They encourage everyone to drop by and check out the many different designs, patterns, and colors they offer and get a taste of their quality and style. And if you thought that was it, they're also the only company offering amazing 3D patio renderings that they'll display right to the back of your home! It's truly an excellent experience and one I strongly encourage you to try.
Giovanni Biondo cares about every one of his customer's experience. From the initial call to every last detail, he will give you 100% of his attention and detail. He simply wants to provide the highest quality product and experience to ensure every customer has an outdoor living space they'll love. 
It's a no brainer that you should choose Biondo Cement for your next decorative concrete patio or driveway project. At the very least, you can give them a look at www.biondocement.com. Or check out some of their work below. You won't be disappointed!
Check out more of our blogs by clicking here.