CONCRETE
DRIVEWAY
PROTECTIVE BARRIER SEALING
Concrete Driveway 
Sealing and Power Washing in Macomb & Oakland County, Michigan
Here at Deccon we are proud to offer world-class services for protecting and maintaining your traditional concrete driveway. From pressure washing to applying a penetrating sealer to strengthen and protect your concrete, we do it all. Trust your concrete driveway sealing and maintenance to the best in the business! Check out more of our fantastic customer reviews by clicking here.
The importance of using Barrier Sealer on your traditional concrete driveway.
As a homeowner, don't you want to do everything in your power to protect your most significant investment? Many homeowners often overlook the importance of driveway sealing. Concrete Driveway Sealing is a great way to protect your cement for the long term. Driveway Seal Coating is very popular and highly recommended because of the changing climate in Macomb and Oakland County, MI. Firstly, our specialized penetrative driveway coating will seal the pores and capillaries of the substrate, preventing liquid absorption. This water-resistant barrier will help prevent freeze-thaw damage and erosion during the winter months. Secondly, our concrete driveway sealer will help avoid surface staining, mold, and damage caused by acid rain or deicing salts and chemicals. This type of proper driveway maintenance saves you money in the long run. It is an excellent and affordable way to increase the overall longevity of your cement. Treat your concrete surface today with our specialized penetrating driveway sealer. Contact our team of professionals and find out how concrete driveway sealing can protect your surfaces for years to come.
The benefits of maintaining your cement surfaces with a driveway sealing service
Prevents chloride ions from penetrating and deicing chemicals, acid precipitation, or salt air and water in marine environments.

Chemically reacts with concrete and masonry components for long-lasting protection.

Our driveway sealer penetrates deeply. The size of the silane molecules allows for a higher penetration than siloxane type water repellents.

Seals pores and capillaries of substrate preventing liquid absorption while allowing excellent vapor transmission.

It does not alter the appearance or texture of the substrate.

Driveway sealing reduces spalling of new concrete surfaces resulting from freeze-thaw cycles.
Get your concrete driveway in shape with a pressure wash service by Deccon.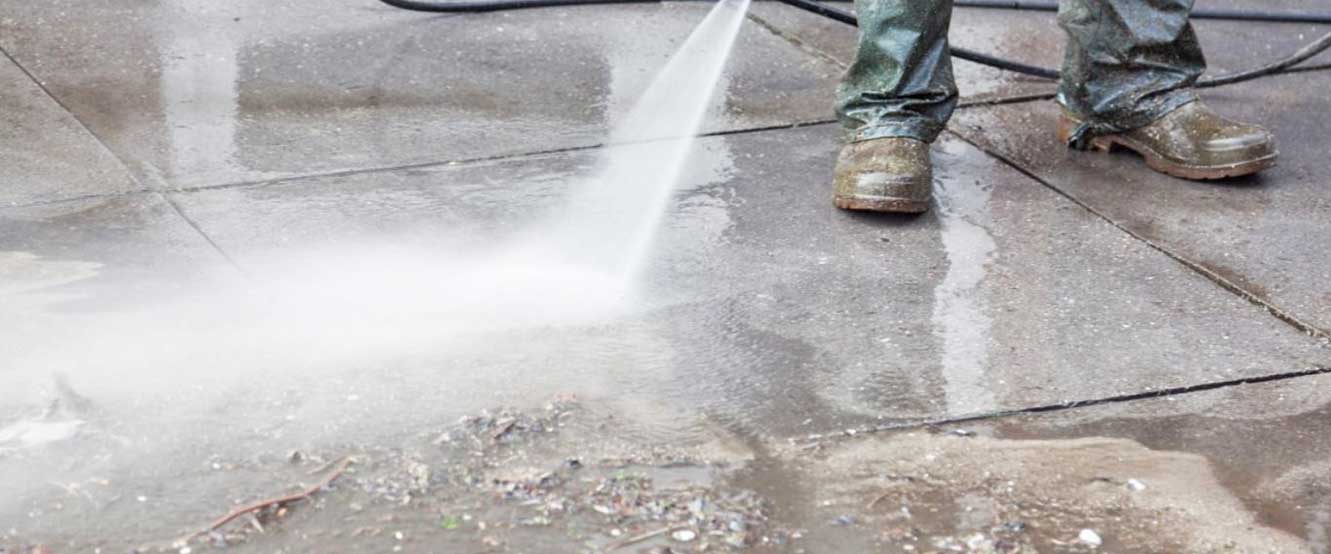 Every concrete driveway sealing service starts with a deep cleaning of your cement surface. The beautifying and protective effects of power washing and driveway sealing is not just limited to decorative concrete. Over time, the seasons weather and erode your plain concrete, causing dirt and grime to build up. These impurities end up compromising the look and integrity of your concrete. What was once a bright concrete surface, now appears dark and dull. The solution? Clean up the look of your traditional concrete with a detailed power-washing and driveway sealing service by the team at Deccon. Our technicians use industry-standard power washing equipment and commercial grade driveway sealer to preserve and freshen up your plain concrete surface, all at an affordable price. Contact the craftsman at Deccon today to learn how power washing and driveway sealing will benefit your home.
STAMPED CONCRETE RESTORATION
Dustless Media Blasting
STARTING AT
$3 /sq. ft.
To learn more about sealer stripping click here.
DRIVEWAY
PRESSURE WASHING
STARTING AT
$199
Click here to book a free Estimate.
For the best service in town
CALL US TODAY
586-569-9513
for a free consultation!
Explore our other amazing services.
See what else Deccon can do for your outdoor living space. We are offer a variety of amazing services to help spruce up your outdoors!
Like & Follow for latest news and project updates
Our service areas
Macomb County
Clinton Township, Macomb Township, Warren, Sterling Heights, Shelby Township, Roseville, Mount Clemens, St. Clair Shores, Utica, New Baltimore, Fraser, Harrison Township, Romeo, New Haven, Armada, Chesterfield, Gross Pointe, Washington Township, Ray Township, Eastpointe
Oakland County
Troy, Southfield, Royal Oak, Rochester, Waterford, Auburn Hills, Novi, Rochester Hills, Clarkston, Farmington Hills, Orion Township, Lake Orion, West Bloomfield Township, Bloomfield Hills, Ferndale, Oakland Township, Birmingham, Madison Heights, Farmington, Bloomfield Township, Commerce Township, Oak Park, Berkley, Clawson, Beverly Hills, Huntington Woods, Orchard Lake, Pleasant Ridge, Bingham Farms, Sylvan Lake, Lake Angelus, Franklin, Milford Township, Leonard, Royal Oak





54864 Congaree Dr, Macomb, MI 48042