EXPOSED
AGGREGATE
SEALING + RESTORATION
Exposed Aggregate
Sealing & Power Washing in Macomb and Oakland County, Michigan.
Here at Deccon we are proud to offer world-class services for restoring and maintaining your exposed aggregate patios, driveways, walkways, and more. From exposed aggregate power wash and sealing to concrete sealer stripping, coloring, and staining, we do it all. Trust your exposed aggregate sealing to the best in the business!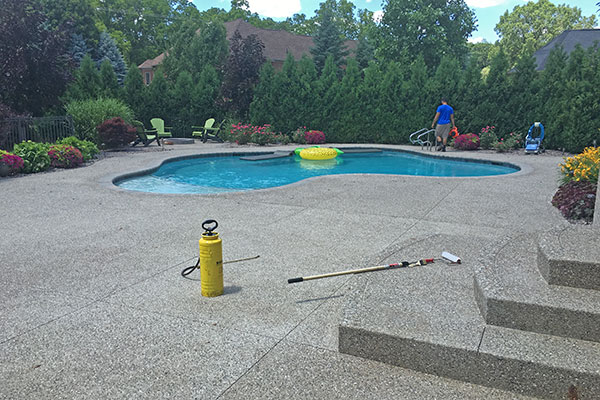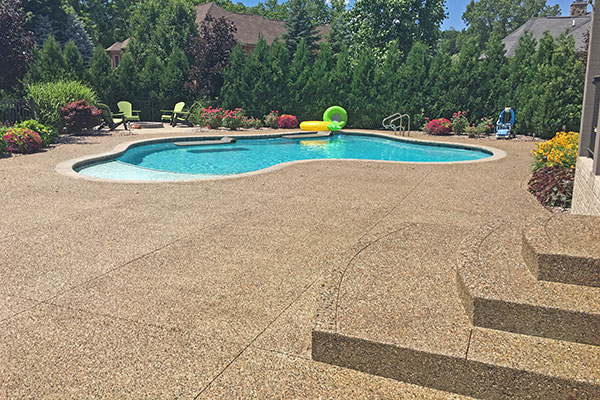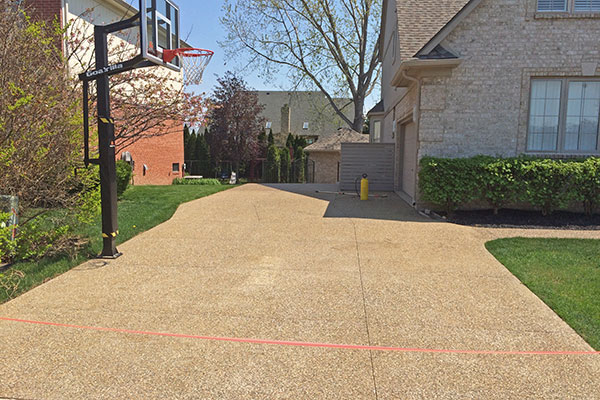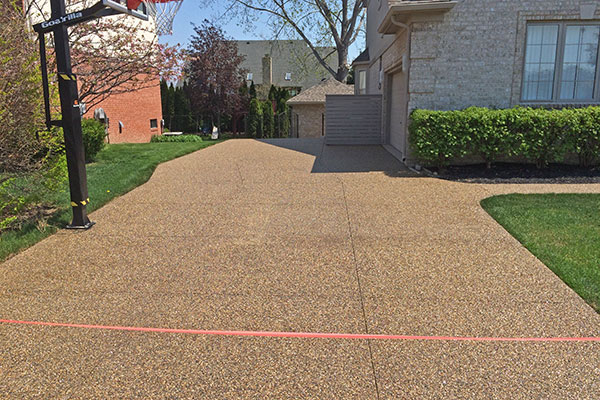 Benefits of Sealing your Exposed Aggregate Concrete.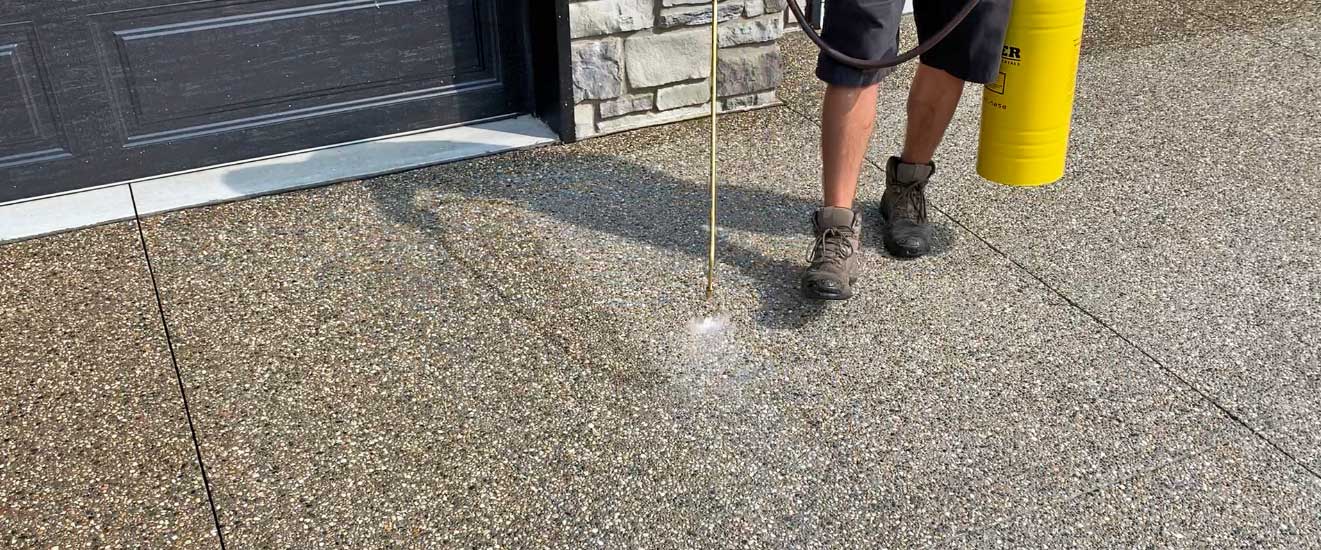 At Deccon we take exposed aggregate sealing seriously. That's why we have invested countless hours experimenting with different types of concrete sealers to find the best possible solution for our Macomb and Oakland County, Michigan customers. With that said, our exposed aggregate sealants contain slip-resistant additives and consist of only the finest acrylics to ensure a sufficient seal that will last throughout the seasons. 
Professional grade aggregate sealing will make your surfaces glisten and protect them from weathering and erosion. For exposed aggregate, we use a unique "brown tone" sealer. Unlike traditional concrete sealers, it offers better consistency, a more even color, and an attractive "honey-glazed" finish. Many competitors seem to ignore the presence of an existing exposed aggregate sealer. Rest assured, the craftsmen at Deccon always make sure they use the right amount of coating, according to the current condition of the substrate. For example, some surfaces contain less sealer from previous applications and require multiple coats.
In contrast, other jobs contain more and only require one. We start applying exposed aggregate sealer by spraying small sections of concrete at a time before back rolling the entire surface for a clean and uniform finish. Check out our amazing exposed aggregate sealing testimonials by clicking here.
The importance of Power Washing your Exposed Aggregate Concrete.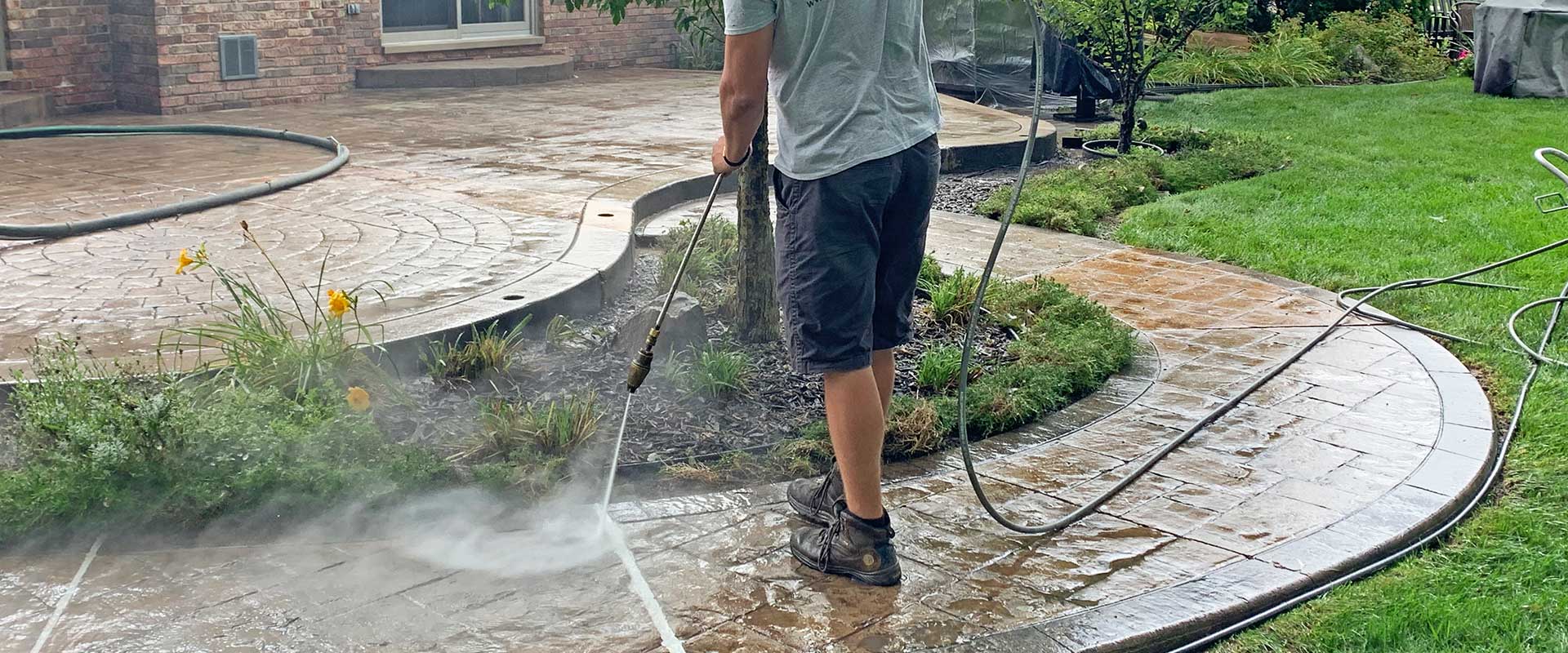 It's important to power wash exposed aggregate before staining and concrete sealing. If the surface is not prepared correctly, discoloring and other issues could appear in the future. We use commercial grade pressure washing equipment and specialized washing nozzles to give your concrete a deep and thorough cleaning. We take comprehensive care cleaning our customers exposed aggregate patios and driveways to ensure our exposed aggregate sealer and stain will adhere correctly. As a result, aggregate sealer will last longer throughout the varying climate of Macomb and Oakland County, MI. Give the artisans at Deccon a call. Learn more about how exposed aggregate sealing and power washing can brighten up your outdoor living arrangement.
Create a elegant and upscale look by Staining your Exposed Aggregate Concrete Patio & Walkway Borders.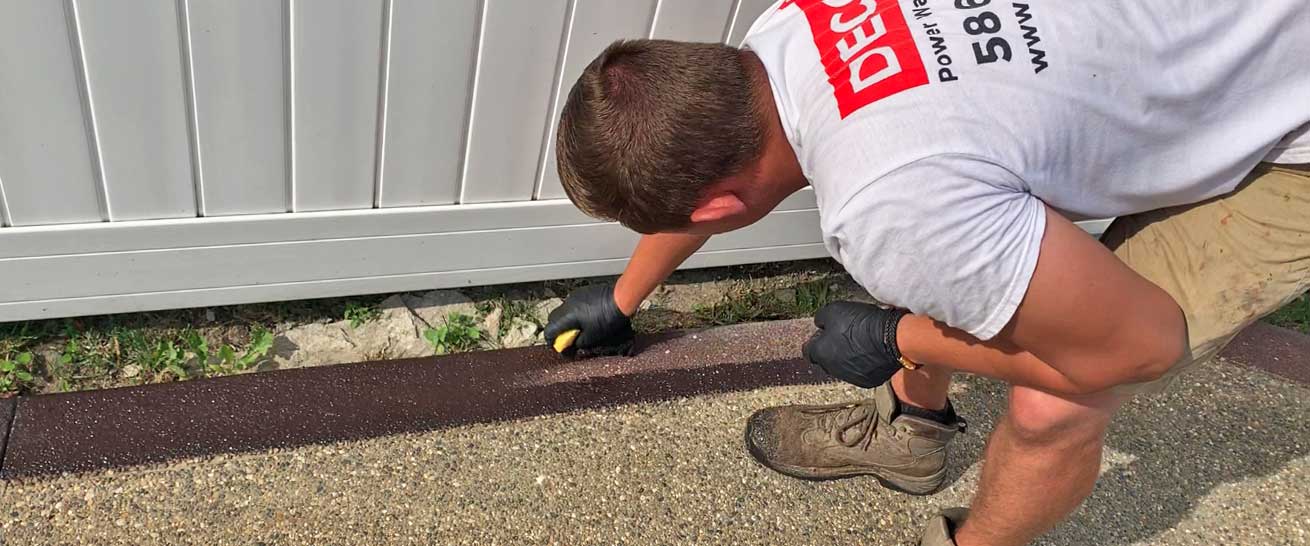 Exposed aggregate staining of borders and accents is a great way to add depth and contrast to your patios and walkways. As mother nature wears down sealer over the years, so does the color and stain of the surface. Before exposed aggregate sealing, we will determine if staining exposed aggregate borders or accents is necessary. If applicable, we will match the original color or apply a completely new stain depending on the condition of the cement and preference of the customer. Also, we can stain surfaces with no preexisting color as a primary measure to protect the life of the concrete, including traditional cement. Explore our exposed aggregate staining color charts by clicking here.
Refresh your exposed aggregate surfaces with a concrete sealer treatment.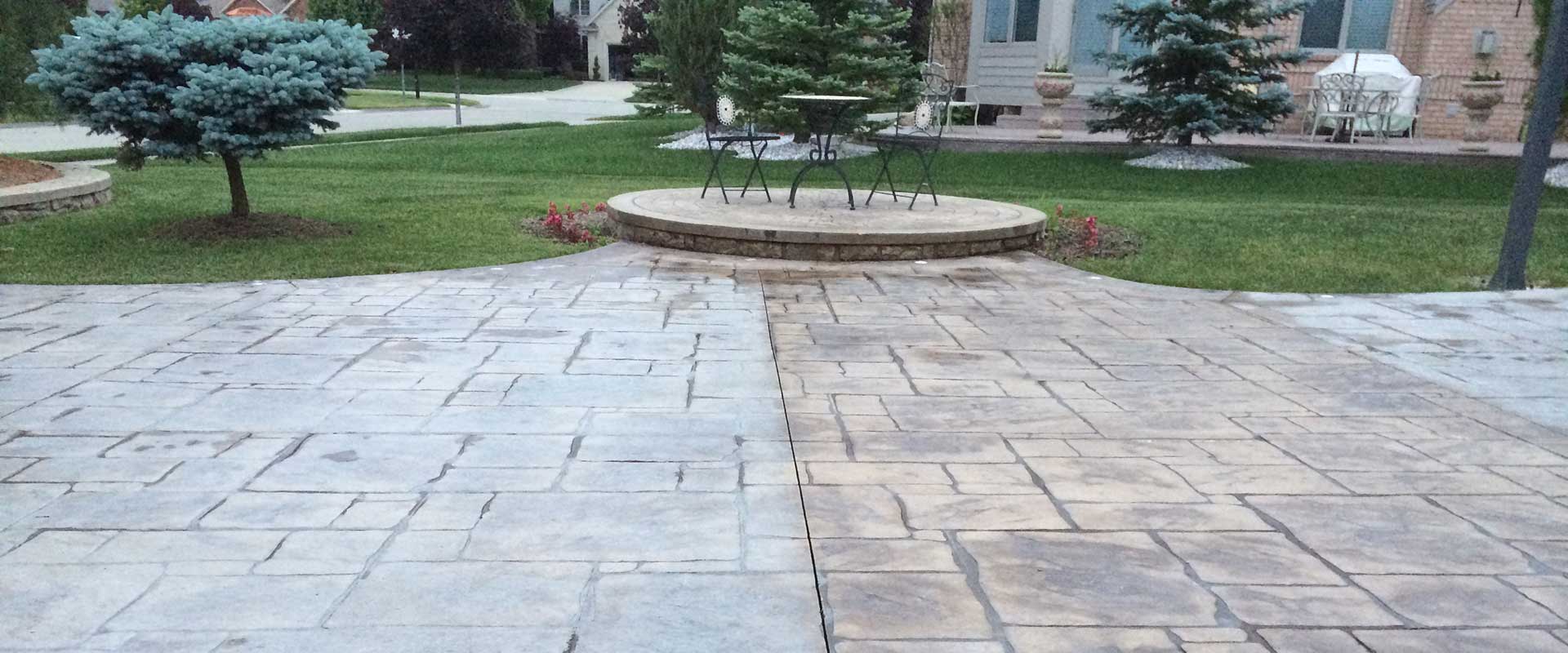 Many people mistakenly believe that surface discoloration means their concrete sealer has worn off or gone bad; this is not always the case. Exposed aggregate sealer is not perfect and can become discolored or cloudy due to temperature change, UV sunlight exposure, surface abrasion caused by everyday wear and tear (including vehicle and foot traffic), improper application, and other factors. Rest assured, an exposed aggregate sealer treatment by the professionals at Deccon can restore the color and luster of your surface by re-activating the existing concrete sealer. Furthermore, a sealer treatment will give you that freshly sealed look without adding additional unnecessary layers of sealant. Upon assessment of the current condition of your cement, we will determine if an exposed aggregate sealer treatment is right for your project. Contact us today to learn more about exposed aggregate sealing and restoration.
STAMPED CONCRETE RESTORATION
Dustless Media Blasting
STARTING AT
$3 /sq. ft.
To learn more about sealer stripping click here.
DRIVEWAY
PRESSURE WASHING
STARTING AT
$199
Click here to book a free Estimate.
For the best service in town
CALL US TODAY
586-569-9513
for a free consultation!
Explore our other amazing services.
See what else Deccon can do for your outdoor living space. We offer a variety of outstanding services to help liven up your homes exterior surfaces!
Like & Follow for latest news and project updates
Our service areas
Macomb County
Clinton Township, Macomb Township, Warren, Sterling Heights, Shelby Township, Roseville, Mount Clemens, St. Clair Shores, Utica, New Baltimore, Fraser, Harrison Township, Romeo, New Haven, Armada, Chesterfield, Gross Pointe, Washington Township, Ray Township, Eastpointe
Oakland County
Troy, Southfield, Royal Oak, Rochester, Waterford, Auburn Hills, Novi, Rochester Hills, Clarkston, Farmington Hills, Orion Township, Lake Orion, West Bloomfield Township, Bloomfield Hills, Ferndale, Oakland Township, Birmingham, Madison Heights, Farmington, Bloomfield Township, Commerce Township, Oak Park, Berkley, Clawson, Beverly Hills, Huntington Woods, Orchard Lake, Pleasant Ridge, Bingham Farms, Sylvan Lake, Lake Angelus, Franklin, Milford Township, Leonard, Royal Oak





54864 Congaree Dr, Macomb, MI 48042