How to Seal Stamped Concrete the Deccon Way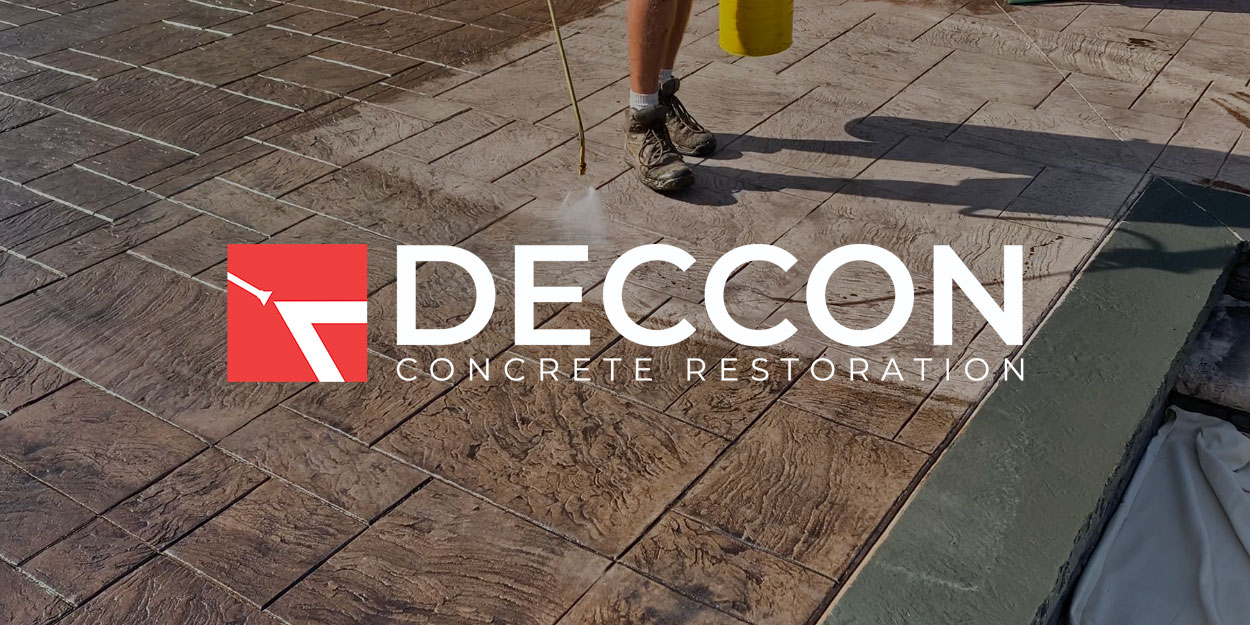 Deccon Concrete Restoration sealing a stained and antiqued stamped concrete patio in Washington Township, Michigan.
Sealing stamped concrete is essential to the longevity of its health and retention of its color. Without a seal coat, stamped concrete will fade and lose its brilliance. Also, the integrity of the surface will become compromised and subject to deteriorating. It is essential to consider the following steps to ensure an excellent finish and protect your concrete correctly.
Step 1: Asses the Surface
Before attempting any concrete maintenance or restoration, it is essential to understand the condition of the substrate. Things to be aware of are how dirty the surface is, and how much sealant is remaining.
Step 2: Surface Preparation
Surface preparation is the crucial first stage treatment of a concrete substrate before the application of any coating. Typically, a thorough cleaning with a commercial grade power washer will do the job. In the worst-case scenario, you will need to use a more abrasive stripping method such as Dustless Blasting (sand-blasting).
Step 3: Staining and Coloring
Not all concrete needs to be stained or colored before seal coating. If you have stamped concrete that has lost its secondary highlight color, then maybe an Antique (color restoration) service is right for you. If your cement has decorative borders, typically surrounding patios and walkways, re-applying a new coating of stain may be required.
Step 4: Determining the Correct Sealer
When sealing decorative concrete, using the appropriate sealer is critical. The artisans at Deccon have established that topical (film-forming) acrylic sealers perform the best. It's essential to use solvent-based products when working with stamped concrete outdoors.
Step 5: Sealer Application
Depending on how much sealer is currently present will determine how thick of a product is needed. A 25% solids sealer will be applicable for surfaces with more existing sealant. On the other hand, a 30% solids sealer works best for surfaces with very little to no sealer at all. Be careful not to over-apply sealer.
To ensure optimal results, always trust your stamped concrete sealing to the professionals. Call Deccon Concrete restoration to get a quote on sealing your cement.
Step 6: Allow the Product to Cure Properly
Every topical sealant requires the correct drying and curing time to ensure optimal performance. We recommend 72 hours before any vehicle traffic and at least 24 hours for heavy foot traffic. After curing, it is yours to enjoy!
Check out more of our blogs by clicking here.